Nissan Navara 2021 premieres in Vietnam with significant change
Hanoi, May 20, 2021 – Vietnam Automotive Industry Development Co., Ltd VAD – the exclusive distributor of Nissan brand officially launched the Nissan Navara 2021 in Vietnam market.
Nissan Navara is well known as one of the best-selling products of the Japanese brand, with more than eight decades of Nissan pickup heritage and reliability, Nissan Navara has achieved lots of achievements and gained the trust of customers in Viet Nam market. With Nissan Navara 2021, this pickup creates a completely different impression, making it the most advanced Navara in its time. In addition to the sustainable values of outstanding operation, durability, and impressive fuel consumption, Nissan Navara 2021 also stands out with its personality and full set of leading intelligent technologies.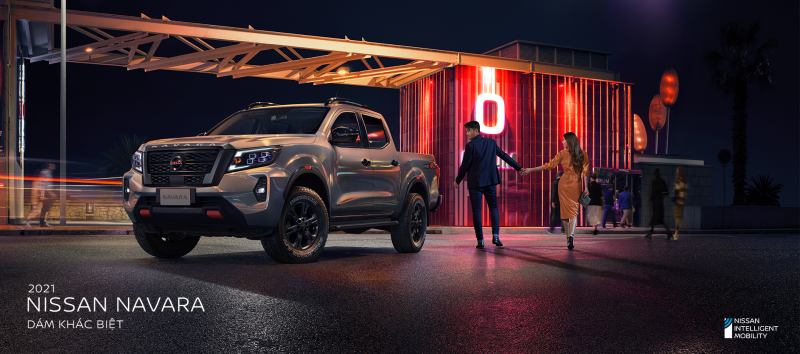 Nissan Navara 2021 is launched with 4 variants, Navara 2WD standard, Navara 2WD Premium, Navara 4WD Premium with 5 color choices and Navara Pro4X with 4 color choices
The car is equipped with a 4-cylinder engine for outstanding acceleration, with a power of 190Ps at 6,000 rpm and 450 Nm of torque at 2,000 rpm. Nissan Navara 2021 offers the ability to overcome all terrains, even under heavy loads. VGS variable turbocharger system optimizes engine operation to increase power and reduce fuel consumption when operating.
Nissan Navara 2021 is designed with an overall length x width of 5,260 x 1,850mm on Standard and Premium variants, and 5,260 x 1,875mm on Pro4x variant, the height stretches 1,810 to 1,860 mm, providing diverse options for users. The wheelbase of 3,150 mm gives the car a spacious space.
INSPIRATIONAL NEW DESIGN
The new design is one of the most spotlights on Nissan Navara 2021. The car becomes more impressive, stronger with completely renewed front fascia. It features a segment-first all-new, high-tech C-shaped Daytime Running Lights and quad LED projector headlamps, increasing brightness and adding a level of sophistication to the rugged design. The grille, fog lamp are also designed with a larger ratio, combined with the veins at the front fascia give the impression of a sporty and modern car.
At the back, seamless signature LED tail lamps as well as the powerful "Navara" stamped at rear trunk lid make the car unique and easily recognizable. The bed height is also increased, much higher than its predecessor for better balanced overall and greater look the back
Completing the cars appearance is the new, sharp and precise new alloy rim design to complement the new Navaras ruggedly bolder looks.
To create the bold impression of the product as well as build a special variant for travel lovers, Nissan Navara 2021 specially introduces Navara Pro4X - a sporty variant that creates the perfect combination between the power of a pickup and the luxury, comfort of an SUV. Nissan Navara Pro4X is designed with sporty exterior, leather seats with embroidered Pro4X logo, black wheels and completed by unique red Nissan logo.
The interior of ​​Nissan Navara 2021 brings the impression of a high-end SUV. This includes a new Nissan sporty 3-spoke steering wheel - 12% less angle for lane change, 15% less steering wheel effort. In addition, Nissan Navara 2021 is also equipped with a 6-speaker stereo system, a 7-inch advanced driver assistance screen - largest in segment and 8-inch Advance Audio Touchscreen & Navigation Display, integrated with Apple Car Play & Android Auto 
Nissan Navara offers 2 options for seat, newly designed leather seats with strong veins running along the body on Premium & Pro4X variants and felt seats for the Standard variant. All variants are equipped with 2nd row seat armrests and rear air vents.
INTELLIGENT TECHNOLOGY, SEGMENT LEADING
Multi-link rear suspension
The multi-link rear suspension system, which is known as one of the top USPs of Nissan Navara, makes it different and outstanding compared to other pickups on the market, bringing the smooth, comfortable experience in all road conditions.
Not only equipped in all variants of Nissan Navara 2021, this valuable system also comes with a series of improvements to enhance the user experience and increase cargo capacity.
The rear suspension now features a Dual-rate spring, thicker design, which helps to minimize the vibration of the body when traveling on bad roads, especially on heavy loads. In addition, the new multi-link rear suspension combined with the rear stabilizer bar, will enhance off-road capabilities, providing equivalent or even superior load capacity compared to Leaf Springs. The rear brake size is also increased to ensure safety with increased loads.
Around view monitor
Nissan Navara 2021 is the only pickup in the segment equipped with around view monitor - equipment that is only familiar on sedans and SUVs. This system offers driver a clearly observation in real time through 4 cameras at the front, rear and sides of the vehicle. Especially Pro4X offers off-road monitor, in 4LO mode, the driver can clearly observe the surrounding terrain, including the exact position of the front wheel. Besides, the MOD system is also integrated on the screen and will automatically activate when it detects moving objects close to the vehicle, avoiding unfortunate collisions.
HAC, DBC reverse camera, reverse sensor, ABS, BA, EBD, ESC, TCS, 6 airbags on all versions: A range of safety features provide a confident and comfortable driving experience. Nissan Navara 2021 now is not only a car but also an interesting partner and reliable assistant on every road.
III. EXPERIENCE LIVE NEVER BEFORE
Increased sound insulation
Sound insulation on the Nissan Navara 2021 is significantly improved thanks to the thickness of the hood, 3-layer soundproofing materials, sound-absorbing materials behind the engine and the cockpit area. In addition, the car glass is the specialized soundproof glass, consisting of 2 outer layers of glass and 1 layer of soundproofing film in the middle, offers a quiet and comfortable ride.
Increase cargo capacity.
Nissan Navara 2021 offers cargo capacity up to 950kg. The bed height increases by 50mm, combined with convenient tie-down hooks make transporting and dismantling goods more convenient and faster. In addition, the design of Dual-rate spring, thicker spring bar on Nissan Navara 2021 also helps the car to operate smoothly under heavy loads, eliminating subsidence when moving.
IV. MSRP
With drastic changes in design and technology, Nissan Navara 2021 is introducing a new concept and standard for a pickup. The car not only serves the needs of work or daily travel, but also describes the lifestyle and personality of the owner. Nissan Navara 2021 brings the muscular closer to elegance and courtesy, allowing the owner to experience the power, the excitement behind the wheel of a pickup and the comfort and convenience, safety of an SUV.
The MSRP of Nissan Navara 2021 is as follows
| | | | | |
| --- | --- | --- | --- | --- |
| Nissan Navara 2021 | Navara 2WD Standard | Navara 2WD Premium | Navara 4WD Premium | Navara PRO4X |
| MSRP VNĐ | 748.000.000 | 845.000.000 | 895.000.000 | 945.000.000 |
Nissan Navara 2021 will be warranted for 5 years or 100,000 km, whichever comes first.
Please contact Nissan Hotline 1900-1189 or visit the official website of Nissan Vietnam http:www.nissanvietnam.vn for more details.